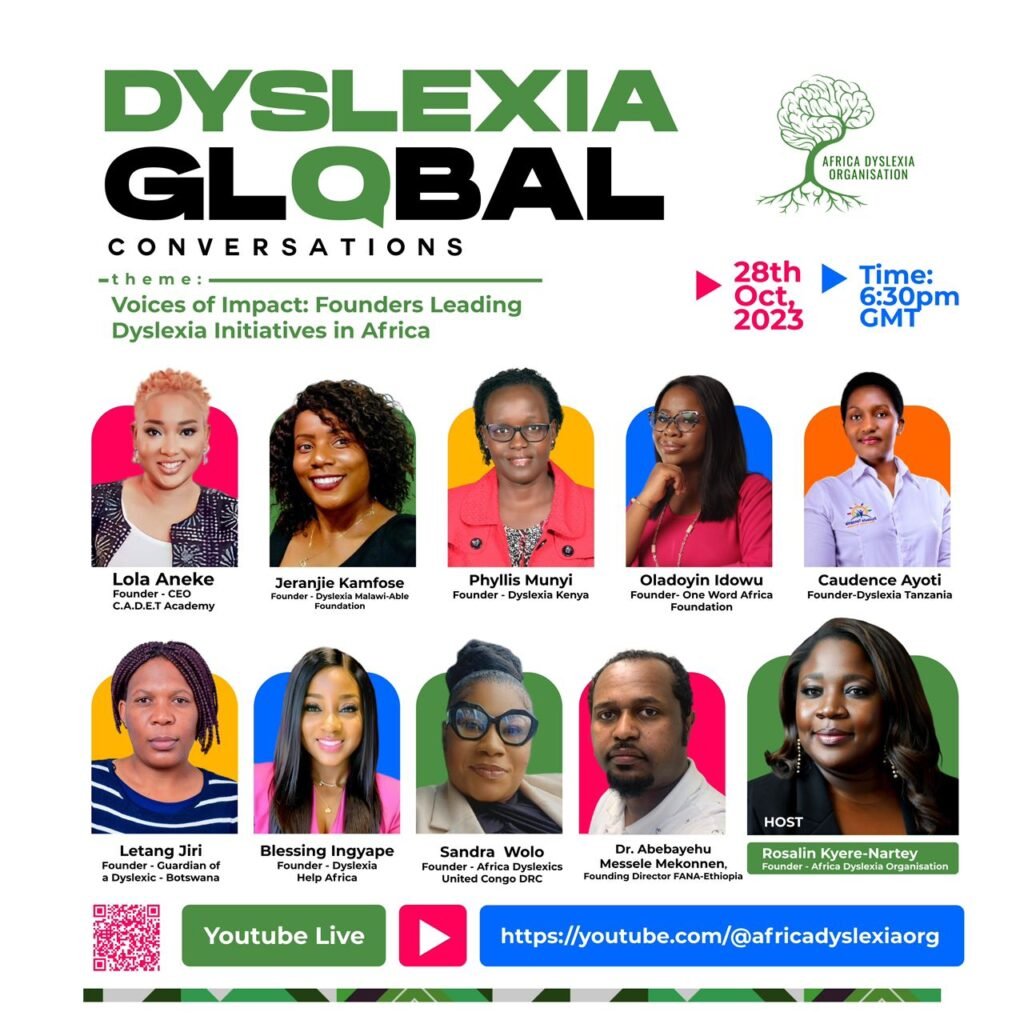 Dyslexia Global Conversations
Date: October 28th, 2023
Time: 6:30 GMT.
Join us as we amplify the voices of impact in the upcoming Dyslexia Global Conversation. Dive deep into the personal inspirations and motivations that drove these remarkable founders to lead the change in the landscape of dyslexia in Africa. Through their stories, we uncover the essence of advocacy, providing support, ensuring that every dyslexic child and adult finds understanding and support. Spearheading innovative initiatives, these leaders have not only shaped the narrative around dyslexia but also kindled hope in many hearts. As we close Dyslexia Awareness Month, this dialogue embodies the solidarity, transformative efforts, and passionate hearts of these trailblazers.
Speakers:
Lola Aneke, Founder – CEO C.A.D.E.T Academy
Jeranjie Kamfose, Founder – Dyslexia Malawi-Able Foundation
Phyllis Munyi, Founder – Dyslexia Kenya
Oladoyin Idowu, Founder – One Word Africa Foundation
Caudence Ayoti, Founder-Dyslexia Tanzania
Letang Jiri, Founder – Guardian of a Dyslexic – Botswana
Blessing Ingyape, Founder – Dyslexia Help Africa
Sandra Wolo, Founder – Africa Dyslexics United Congo DRC
Dr. Abebayehu Messele Mekonnen, Founding Director – FANA-Ethiopia
Hosted by Rosalin Kyere-Nartey, Founder – Africa Dyslexia Organisation.
Together, let's learn, celebrate the strides, and delve into the inspirations that catalyzed a brighter, more inclusive future for every dyslexic child and adult in Africa.