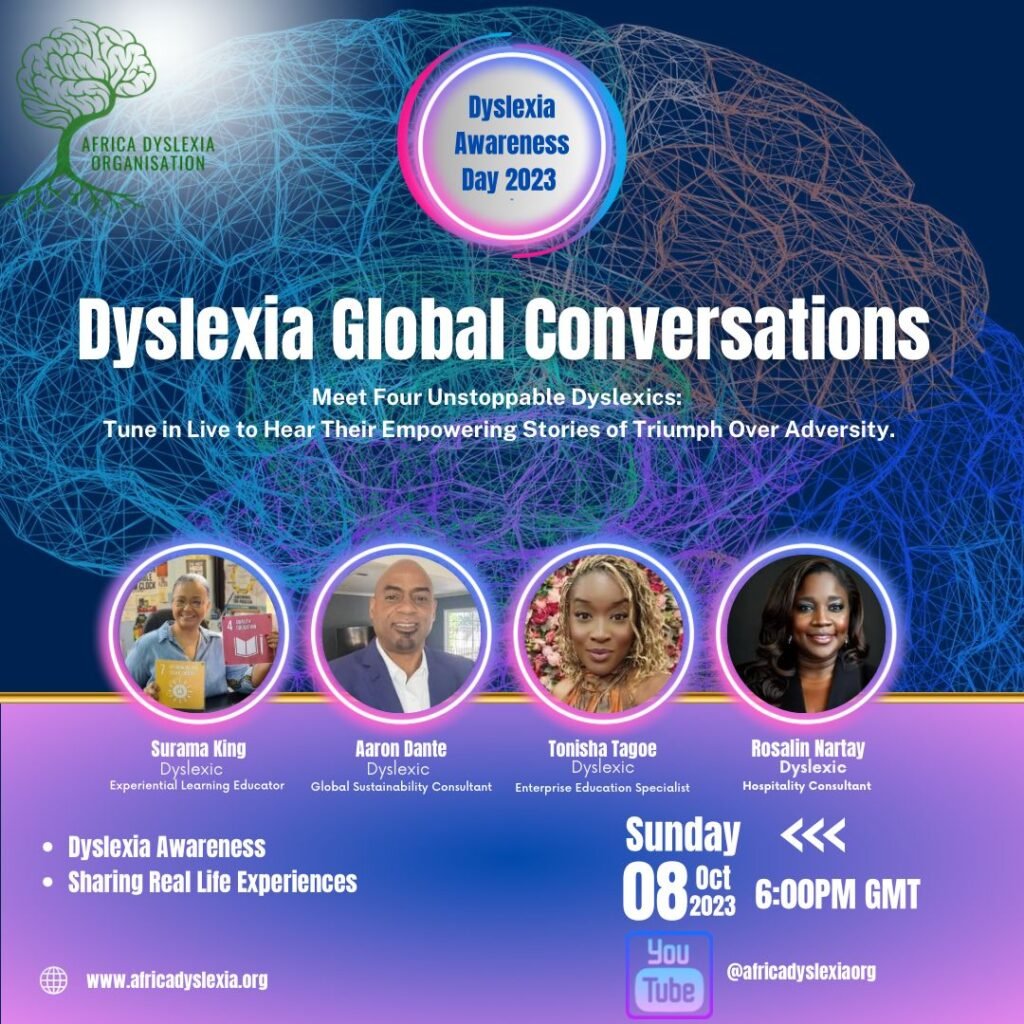 Dyslexia Global Conversations
Mark your calendars for a captivating and enlightening session this Dyslexia Awareness Day, 8th October 2023 at 6 PM GMT!
Join us live on Dyslexia Global Conversations, streaming exclusively on our channel (@africadyslexiaorg), where we will host a panel of extraordinary individuals who have not only embraced their dyslexic minds but also turned them into their greatest asset.
Meet Surama King – A devoted Experiential Learning Educator who's navigated through life's academic and professional spheres with dyslexia as her companion, turning challenges into unique teaching methodologies that foster inclusive learning.
Engage with Aaron Dante – An astute Global Sustainability Consultant and former Tesla Executive whose dyslexic journey has shaped his holistic and innovative approach to sustainable practices, making significant strides in the international arena.
Learn from Tonisha Tagoe – An accomplished Enterprise Education Specialist whose dyslexic perspective has been her guiding light in crafting educational strategies that are accessible, engaging, and profoundly impactful for all.
Hosted by Rosalin Kyere-Nartey, a seasoned Hospitality and Education Consultant and a proud dyslexic, who has woven a narrative of success and inspiration by leveraging her distinctive thinking style in the dynamic hospitality and education sector.
Each of our guests will share their personal stories, the mountains they've climbed, the obstacles they've overcome, and the successes they've celebrated, all while navigating the world with dyslexia. Their stories are not just tales of triumph but are also a source of inspiration, hope, and a wealth of insights for individuals with dyslexia, educators, parents, and allies alike.
Dive into these empowering narratives, engage with our speakers, and let's together unfold the pages that tell the tale of dyslexia from the eyes of those who live it, learn it, and love it every day!
Tap the link https://www.youtube.com/live/ZGMtb1LzLng?si=jJ9axzVIN25O2dw9, set a reminder, and join us for a conversation that's set to be as enlightening as it is inspiring. See you there!